Pingyao Pouch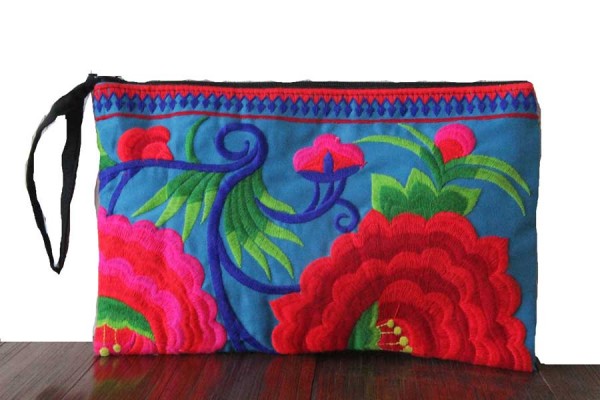 In stock ✔ - Fast Delivery
Charming handmade hand pouch entirely embroidered on both sides.hand. A fashion accessory out of the ordinary in unique copy and not found elsewhere. A very chic vintage clutch that will give you a very trendy look ! Unique and original creation, it will arouse the admiration of your entourage and will make many desires around you. This exceptional small clutch bag is a real work of art that will seduce you every day a little more. Entirely lined, it closes with a zip and is held in the hand with its specific handle. A unique copy in the world
At home mardi 02 mars
Hurry up!!! Only
to get your package in the mail today.
Material

Cotton

Dimensions

15 x 26cm

48H Shipping

in france
Shipping Worldwide
Gift wrapping and customizable message*
Handbag History
This season''s classic, the handkerchief is easy to wear, it gives allure and highlights the dynamic style of a personality but also the character of a woman. Indeed, the clutch, by the fact that one must reduce one''s handbag to the bare essentials of what one needs, is often the reflection of a determined personality who knows how to move forward. Because wearing a clutch is above all knowing how to fill it and feeling comfortable with it. Then and once in your hand, it will give you confidence and style by adding a touch of color to your outfit and freeing your shoulders compared to a classic handbag that clutters your shoulders.
Choose his bag
If you are looking for a rare and unique fashion accessory, this sublime clutch will delight you with its beauty and history. Ravishing and handmade, this splendid handbag clutch is absolutely unique in the world. Its manufacture answers to an ancient authentic craft and is distinguished by its precise codification. Each element is inspired by nature and the shapes and curves of its arabesque motifs are the symbol of it. Airy and refined, this sublime little clutch bag is impossible to find elsewhere, its handcrafted character is a delight only its rare beauty. Be careful, it is a unique piece.
Craftment of your bohemian bag